AKA "Yowapeda", starts October 7 at 11:00 am Pacific Time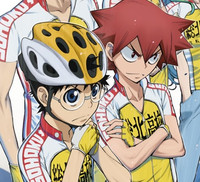 Make way! Another new fall anime announcement comes careening out of Crunchyroll! Yowamushi Pedal, based on the bike racing manga by Wataru Watanabe, will soon be available for viewing.
YOWAMUSHI PEDAL (YOWAPEDA), will simulcast every Monday starting on October 7 at 11:00 am Pacific Time for its premium members. Free users will be able to view this series one (1) week after initial broadcast on Crunchyroll. More information can be found on www.crunchyroll.com/yowapeda.
Story
"Onoda Sakamichi is a rather timid, anime-loving first-year student at Sohoku High School. Upon entering high school, he tried to join the anime research club, but after meeting Imaizumi Shunsuke, a renowned cyclist since middle school, and Naruko Shoukichi, who swept the Kansai cycling championship, he ended up joining the competitive cycling club. All kinds of incidents and rigorous training awaited Sakamichi, but with the support of his many friends and upperclassmen like Kinjou, Tadokoro, and Makishima, he went on to overcome many trials. And as the days went by, the talented road racer inside Sakamichi began to awaken...!
High school students pushing themselves to the limit as they bet everything on their bicycles are about to begin a race of passionate souls!"
YOWAPEDA will be available to users in the following territories: United States, Canada, Caribbean, South Africa, and Central and South America.
---------
Patrick Macias is editor in chief of Crunchyroll News. He is also the editor of Cosplay USA magazine. Check out his blog at http://patrickmacias.blogs.com