Studio likely to take smaller gambles after revered director retires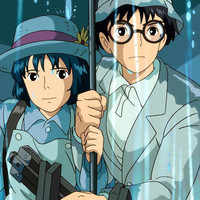 Distributor Toho recently reported that Hayao Miyazaki's The Wind Rises topped 10 billion yen ($101 million) by the week of September 11th, attracting about 8.1 million moviegoers in the 54 days after it opened on July 20, and holding top spot for eight consecutive weeks. Revenue from that weekend rose 34.5 percent over the previous weekend after the 72-year-old famed director announced his retirement on the 6th.
Still, the movie might have not turned a profit yet.
Hiroyuki Ota, staff writer at Japan's second largest newspaper, the Asahi Shimbun, recently took an in depth look at possible reasons why revered director Hayao Miyazaki might be retiring. In this, he notes that as of early September, prior to the retirement announcement, a source at Ghibli revealed that the film cost so much to make that it hadn't turned a profit yet.
Co-founder Isao Takahata's long gestating Princess Kaguya film is said to have cost even more. And that's with a box office track record that is notably weaker than Miyazaki's. Takahata's last film, 1999's My Neighbors the Yamadas cost 2.36 billion yen and made 1.1 billion yen.
Ota noes that a permanent fixture inside the producer's office at Ghibli is a rice bowl with dice inside, symbolizing a favorite saying of Miyazaki and Producer Toshio Suzuki, that "a movie is a gamble."
"Miya-san is a genius when it comes to using money. It takes talent to do that," Suzuki said. "Ghibli has one more person, Paku-san (director Takahata's nickname), who's good at using money. How are we going to prepare that cash? I hope that later they can use it to make great films."
Studio Ghibli has another project in the pipeline for next summer and Ota expects a constant stream of films in the future, but as Miyazaki declared he would "not be involved in any new works," the gambles will likely be smaller, with the relatively lower budgets of movies like Arrietty and Poppy Hill.
Beyond financial changes, Ota expects that Studio Ghibli without Miyazaki will also evolve artistically. Ota goes into the history of Mamoru Hosoda's halted iteration of the Howl's Moving Castle production and the creative frictions in the making of the studio's Whisper of the Heart, when Miyazaki attempted to step back and assigned trusted animator Yoshifumi Kondo to do the actual drawings for the film.
The must read full INSIGHT: Hayao Miyazaki to retire, his real reason for leaving anime can be found here.
-------
Scott Green is editor and reporter for anime and manga at geek entertainment site Ain't It Cool News. Follow him on Twitter at @aicnanime.