How many more guys with glasses are in the anime?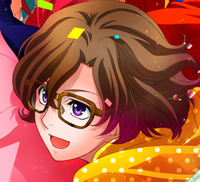 Meganebu!, the new Fall anime with guys who have passion for glasses has just finished the pre-screening of the first episode and also announced additional cast members for the characters who are not listed on the official site yet.
The official Twitter account also posted a teaser image from the first episode.
Another teaser image also posted on Twitter above, showing the additional cast and the images of the new characters. Shockingly, some of them are not wearing glasses! They are the members of Hima-Kai, the Himalaya Daisan Kogyo Koukou Student Council and they are all mixed with other nationalities except for one member.
From left, Sato William who is half British, voiced by Sugiyama Noriaki (Sasuke from Naruto Shippuden, Shirou from Fate/kaleid liner PRISMA ILLYA), Watanabe Lorenzo who is half-German, voiced by Madono Mitsuaki (Joe/Akie Yuzuru from DEVIL SURVIVOR 2 THE ANIMATION, Ougi Kaname from CODE GEASS Lelouch of the Rebellion R2), Takahashi Maximilian who is half-Italian, voiced by Kishio Daisuke (Teshima Junta from Yowapeda, Rei from DD Fist of the North Star), Tanaka Antonio, who is half-Brazilian, voiced by Iwata Mitsuo (Takeuchi Itsuki from Initial D) and Suzuki Toru, who is Japanese and voiced by Suzuki Chihiro (Saotome Jun from Dokidoki! Precure, Kamio Akira from The Prince of Tennis II).
With Crunchyroll simulcasting the series soon, will the additional cast members be enough for you to watch it?
Source: Ota-suke
(C)2013 メガネブ!プロジェクト/メガネブ!製作委員会