What would you put in the bubble?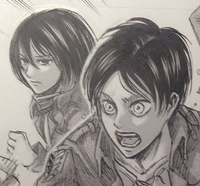 The End card for the last episode of Attack On Titan was done by none other than the original author himself, Hajime Isayama. It mimics the cliche last scene of manga that was cut-off in the middle of its run, which was already funny enough as a joke, but he also posted the blank version of it on his blog, silently suggesting fans to go have fun with it.
*SPOILER WARNING FOR THOSE WHO HAS NOT SEEN THE END CARD YET*
A blank version of episode 25 end card, above.
A sample found on twitter.
Eren: "Captain Levi!!"
Eren: "I'll go reserve a wedding hall for us!!!"
A rough sketch of the end card was also posted.
Another photo posted in the same blog entry. From left, Isayama, Araki Tetsuro anime director, Kaji Yuuki (voice of Eren), Ishikawa Yui (voice of Mikasa), and Inoue Marina (voice of Armin).