100 anime otaku in Japan voted for the Top 10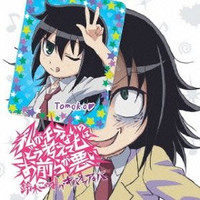 Anime songs are increasingly showing their presence on music sales charts in Japan, but some of them have really striking lyrics that you would only hear in anime music. Japanese reading portal, Da Vinch Denshi Navi polled 100 anime otaku to decide the top 10 anime songs with memorable lyrics to see what those are. The votes were collected from 100 anime otaku shopping at Nihonbashi, Osaka. Let's find out which anime songs are sticking in people's minds.
#1 Guren No Yumiya by Linked Horizon
Lyrics by Revo for Attack On Titan 1st opening theme
Not only shocking anime fans everywhere, the song as well as the anime made a huge commercial impact in Japan. The lyrics are full of memorable words and phrases such as "Kachiku No Annei (peace for domestic animals), Kyogi No Hanei (false prosperity)" and effectively incorporated German words in the song that match the setting of the anime. The lyrics sheet was also something to look at when it comes to Linked / Sound Horizon for their use of language, symbols and anything in that matter. Their lyrics are also famous for not being displayed at karaoke places in Japan for their complexity.

#2 Watashi Ga Monetani Noha Dou kangaetemo Omaera Ga Warui
Lyrics by Kiba of Akiba for WATAMOTE ~No Matter How I Look at It, It's You Guys Fault I'm Not Popular! opening theme
Memorable death metal vocals at the beginning of the song that makes the lyrics sound as if it is in something other than Japanese, but it is still in Japanese. The song sticks to listeners' mind with the effective use of call and response lines in the song and it ends with the title of the anime. There is no denying that it is somewhat exhilarating at karaoke when you can blame others for your own shortcomings even if it's just a lyric (and you don't mean it, of course).
#3 Taiyo Iwaku Moeyo Chaos
Lyrics by Hata Aki for Nyarko-san: Another Crawling Chaos opening theme
#4 Koi Wa Chaos No Shimobe Nari
Lyrics by Hata Aki for Nyarko-san: Another Crawling Chaos W opening theme
Anison's reigning lyricist queen, Hata Aki, known for her work with the Lucky Star opening theme and many, many others, created more masterpieces for Nyarko-san that are super memorable with "(」・ω・)」Woo! (/・ω・)/ Nyaa!" and "\(・ω・\)SANCHI! (/・ω・)/PINCH!" emoticons. These songs are anison karaoke staples at otaku karaoke parties in Japan as many parties open with these 2 songs, where every attendee gets to do what the emoticon is doing while chanting "Woo! Nyaa!" or "SANCHI! PINCHI!"

#5 Maji LOVE 1000%
Lyrics by Agematsu Noriyasu for Uta No Prince Sama! opening theme
Are you ready? Otome game music master Agematsu definitely knows how to create Happy Pulse with songs, as another UtaPri opening theme Maji LOVE 2000% also collected many votes although it did not make Top 10. Many fans can dance to this song while singing and there is a bonus for any singers who sings this song to receive "fangirl screams" as if they were one of the ST☆RISH member at karaoke parties in Japan.
#6 Hyadain No Kakakata☆Kataomoi-C
Lyrics by Maeyamada Kenichi for Nichijo opening theme
This was the first major label release by Maeyamada, better known as Hyadain who built his fanbase from Nico Nico Douga. It received attention because he performed every vocal in this song which sounds like a duet with a female vocalist, but the lyrics are also very memorable with lots of word-play in them.
#7 WanwanwanwanN_1!!
Lyrics by Hata Aki for Dog & Scissors opening theme
This song makes the third song in Top 10 that Hata Aki penned. In the traditional anison/denpa music manner, it opens with many vocals and lines from the show that creates an interesting chaos and after all the verbal abuse, there are call and response verses in almost every line that require the audience to become a dog for the singer by barking "wan wan wan" in Japanese.
#8 HANAJI
Lyrics by Arimori Satomi for Maria Holic first season opening theme
The title of the song literally means what you see a lot of in the anime, the nosebleed. Performed by THE one and only Kobayashi Yu, the voice of Shidou Mariya, this high tension song makes you jump around with risqué lyrics from beginning to end. However, possibly because it's Kobayashi, those words are far more convincing with wild craziness instead of sounding cheap by overly trying to be sexy. I personally like how it takes a jazzy turn in the second verse that adds a little class while still keeping its abnormalness of the lyric.
#9 Chosaikenbo Sengen
Lyrics by Mi~ko for Kyoran Kazoku Nikki opening theme
Kyoran Kazoku Nikki (The Diary of A Crazed Family) ran on TV in 2008. Another anison/dempa song with lots of tongue twisting word-play and lines that anime otaku in Japan get challenged to try at karaoke. The lyric uses a lot of kanji in the chorus, it looks like a Buddhist mantra and it preaches the role of a wife in the crazed family.
#10 Rolling Rolling!
Lyrics by Momoi Haruko for Ro-Kyu-Bu! second season ending theme
Ro-Kyu-Bu! takes place in a elementary school with a group of innocent young girls playing basketball and the title of this song conveniently sounds like "Loli, loli" in Japanese (1 strike). The chorus ends with an English phrase mixed with Japanese at the end that reads "Show you guts cool say what saikou daze", but sounds like "grade schoolers are the best" in Japanese (2 strikes). Anison veteran Momo-i knows what she is doing and strategically escapes 3 strikes that make otaku go, "Shame on you! Give me more!".
Source: Da Vinch