Followed by Kiniro Mosaic, Attack on Titan, Fantasista Doll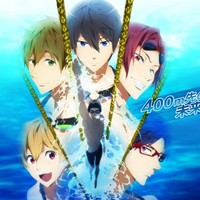 On October 2, the Japanese communications service provider NEC BIGLOBE's "Anime Engine (β)" reported the result of their Twitter research for the 2013 summer TV anime series which was conducted between July 1 and September 30. The rankings in the report show the number of total tweets per minute during broadcasting.
The most tweeted title during the period was obviously Kyoto Animation's swimming-themed anime Free!. It took the first places in all of the rankings for "1st episode" (1,060 tweets per minute), "final episode" (932), and "average" (807). In the "average" ranking, Free! was followed by Kiniro Mosaic (648), Attack on Titan (519), Fantasista Doll (515), and Watashi ga Motenai no wa Dou Kangaete mo Omaera ga warui (508). Check the three Top 10 rankings below.
2013 Summer TV Anime Tweet Ranking (per minute)
-1st episode-
1. Free! (1,060)
2. Danganronpa The Animation (1,006)
3. Monogatari Series 2nd season (881)
4. Rozen Maiden: Zurückspulen (861)
5. RO-KYU-BU! SS (807)
6. Fantasista Doll (789)
7. Love Lab (767)
8. Kiniro Mosaic (766)
9. Watashi ga Motenai no wa Dou Kangaete mo Omaera ga warui (723)
10. Teekyu 2nd season (709)
-Final episode-
1. Free! (932)
2. Kiniro Mosaic (827)
3. A Certain Scientific Railgun S (563)
4. Attack on Titan (563)
5. Fantasista Doll (530)
6. Watashi ga Motenai no wa Dou Kangaete mo Omaera ga warui (504)
7. BROTHERS CONFLICT (465)
8. RO-KYU-BU! SS (423)
9. Danganronpa The Animation (360)
10. Senki Zessho Symphogear G (352)
-Average-
1. Free! (807)
2. Kiniro Mosaic (648)
3. Attack on Titan (519)
4. Fantasista Doll (515)
5. Watashi ga Motenai no wa Dou Kangaete mo Omaera ga warui (508)
6. A Certain Scientific Railgun S (502)
7. Danganronpa The Animation (490)
8. RO-KYU-BU! SS (451)
9. BROTHERS CONFLICT (393)
10. Monogatari Series 2nd season (392)
"Free!" 1st PV
Source: press release
© Koji Ouji/Kyoto Animation/Iwatobi High School Swimming Club