WARNING - If you're especially spoiler conscious, you might want to skip the cast preview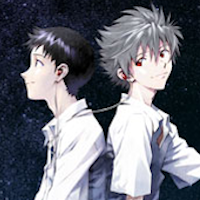 FUNimation announced that Evangelion 3.33 will be screening at New York Comic Con on Friday, Oct. 11th, at 8pm on the Main Stage. With this coming up FUNi has revealed the cast for the Rebuild movie, which features a number of additions.
Mike McFarland (ADR Director for the movie) and Spike Spencer (English Voice of Shinji Ikari) will both be guests of the convention, and their autograph sessions are as follows:
- Saturday @ 4:30pm - Autograph 6
- Sunday @ 12pm - Autograph 7
synopsis:

Shinji Ikari just woke up in his Eva unit fourteen years after starting the Third Impact. He hasn't aged, but everything else has changed. The earth is in ruins. Rei is missing. The people he once protected treat him like a prisoner and threaten to kill him if he pilots another Eva.
When he escapes to the remains of NERV headquarters, Shinji meets pianist Kaworu, who is destined to be Shinji's copilot in a new dual-cockpit Eva. As the boys bond, NERV's true mission begins to come into focus. Lost in a labyrinth of deception, Shinji careens toward a mental breakdown that could bring about the end of humanity.
Evangelion 3.33 continues the groundbreaking rebuild with stunning robot battles and mind-bending revelations. The end of every world has a beginning.
Fans at the convention can pick up these limited edition posters at any of the Evangelion NYCC events (see front and back images below). Supplies are limited, so best to show up early!
WARNING - If You're Especially Spoiler Conscious, You might want to skip the cast preview...
SHINJI - Spike Spencer
KAWORU - Jerry Jewell
ASUKA - Tiffany Grant
REI - Brina Palencia
MISATO - Allison Keith-Shipp
RITSUKO - Colleen Clinkenbeard
MARI - Trina Nishimura
FUYUTSUKI - Kent Williams
GENDO - John Swasey
KITAKAMI - Tia Ballard
SAKURA - Felecia Angelle
AOBA - Phil Parsons
TAKAO - Greg Dulcie
TAMA - Aaron Roberts
HYUGA - Mike McFarland
NAGARA - Krishna Smitha
IBUKI - Caitlin Glass
------
Scott Green is editor and reporter for anime and manga at geek entertainment site Ain't It Cool News. Follow him on Twitter at @aicnanime.