Starts October 5, 4:30am. Pacific Time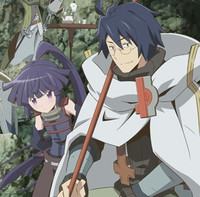 It's been a day of numerous new anime announcements at Crunchyroll… heck, a whole week full of them! Even so, here's another one for you: Log Horizon, based on the light novel series, will begin streaming tomorrow.
Log Horizon is set to broadcast every Saturday starting on October 5, at 4:30am. Pacific Time for premium members, and free members able to watch one week later. More information can be found on www.crunchyroll.com/loghorizon
Background and story
Log Horizon is based off of a light novel of the same name, written by Mamare Touno. Shiroe is voiced by Takuma Terashima, who also voiced Otoya Ittoki in the Uta no Prince Sama series, Emiri Kato, also known as Koko from Tsuritama, will be voicing Akatsuki, and Tomoaki Maeno, whose other roles include Kai Takemura from Say "I love you", stars as Naotsugu.
"One day, while playing the online game Elder Tales, 30,000 players suddenly find themselves trapped in another world. There, eight-year veteran gamer Shiroe also gets left behind. The trapped players are still alive, but they remain in combat with the monsters. The players don't understand what has happened to them, and they flee to Akiba, the largest city in Tokyo, where they are thrown into chaos. Once proud of his loner lifestyle, Shiroe forms a guild called Log Horizon with his old friend Naotsugu, female assassin Akatsuki and others. From the ruins of Akiba, the Shiroe who shuns human contact sets out with his friends to change the world."
Log Horizon will be available to Crunchyroll's audience in the following territories: North America, UK, Ireland, South Africa, Australia, New Zealand, Latin America, Scandinavia, and the Netherlands.
---------
Patrick Macias is editor in chief of Crunchyroll News. He is also the editor of Cosplay USA magazine. Check out his blog at http://patrickmacias.blogs.com