Premiere on Tokyo MX on January 5, 2014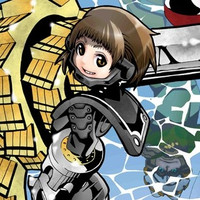 The official site for the upcoming TV anime adaptation of Masato Hisa's action manga Nobunagun announced its main production staff today. The manga has been serialized in Earth Star Entertainment's Comic Earth Star monthly magazine since June 2011 and so far three tankobon volumes have been published in Japan. The story revolves around a high school student Shio Ogura who has an E-Gene of Oda Nobunaga (a major daimyo during the Sengoku period in the late 16th century) and her battles against giant monsters with a big repeating gun named "Nobunagun."
It is scheduled to premiere on Tokyo MX and other stations at 10:00 pm on January 5, 2014. Veteran director Nobuhiro Kondo who has been working in the Japanese anime industry since late 1980s serves as the director. His most famous work as the series director was the Keroro Gunso/Sergeant Frog TV anime series (episode 104-357). Kazuko Tadano, who is best known for her character design
works for the Pretty Guardian Sailor Moon anime series in 1990s, works with Hiromi Matsushita as the
character designers for the series under an alias of KAZZ・T.
The staff:
Director: Nobuhiro Kondo (Sergeant Frog)
Sub director: Johji Furuta (Saint Seiya Omega, Love Live! - storyboards)
Series composition: Hiroshi Yamaguchi (Gingitsune, Rosario + Vampire)
Character designer: KAZZ・T - an alias of Kazuko Tadano (Pretty Guardian Sailor Moon)
Hiromi Matsushita (Sergeant Frog, Hunter x Hunter)
Mechanic design: Kenichi Takase (Mobile Suit Gundam Unicorn, Star Driver)
Hirofumi Nakata (Catherine, First Squad)
Production company: Bridge (Mitsudomoe, Devil Survivor 2 the ANIMATION)
Source: Comic Natalie
(c) Masato Hisa/Earth Star Entertainment/"Nobunagun" Production Committee