Keiichi Sigsawa has something seemingly very meta coming November 1st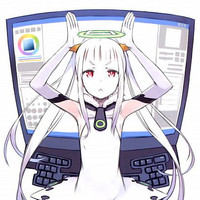 This season, we're seeing anime based on light novel series named My Mental Choices Are Completely Interfering With My School Romantic Comedy and I Couldn't Become a Hero, So I Reluctantly Decided to Get a Job. As risibility verbose as those are, as as much as making up light novel titles has become a net parlor game, Keiichi Sigsawa, author of the Kino's Journey might have it all beat with his new work.
He actually seems to be going for something meta more than he is trying to win a bet...
Coming November 1st is
"男子高校生で売れっ子ライトノベル作家をしているけれど、年下のクラスメイトで声優の女の子に首を絞められている。―Time to Play―"

Or

"Danshi Kōkōsei de Urekko Raito Noberu Sakka o Shi te Iru Keredo, Toshishita no Kurasumeito de Seiyū no Onnanoko ni Kubi o Shimerare te Iru. -Time to Play-"

or

"You're the Most Popular Light Novel Author at the All Boy's High School, but you're Being Strangled by your Junior who is also a Voice Actress? 。―Time to Play―"
The lead is novelist making his Dengeki Bunko debut who get into a dicey relationship with a rookie seiyuu.
Frequent collaborator Kouhaku Kuroboshi will be illustrating.
------
Scott Green is editor and reporter for anime and manga at geek entertainment site Ain't It Cool News. Follow him on Twitter at @aicnanime.