Manga-style gourmet battle to be fought by two Japanese newspaper giants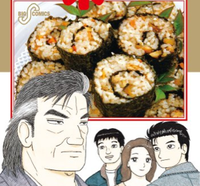 Realistic gourmet battle and family drama manga, Oishinbo has inspired a real gourmet battle project by two of the largest newspaper companies in Japan, just like in the manga. The manga that is celebrating its 30th anniversary since its start on October 15th, 1983 in Weekly Big Comic Spirits draws heated gourmet battles between fictional newspaper agencies Teito Newspaper and Tozai Newspaper where the main character Yamaoka Shiro and his resented father, charismatic gourmet expert Kaibara Yuzan represent the opposite company to decide if the ultimate menu or the supreme menu is better.
Kaibara Yuzan on left and Yamaoka Shiro on right. Two newspaper agencies taking on the evergreen battle are Yomiuri and Asahi, with 3 menu matches planned for November. The 3 matches will take place in 3 different prefectures in Japan and the final battle in Tokyo with guest judges will determine the winning newspaper agency.
The 3 themes for the battle have already been chosen and listed below:
Ultimate and supreme Wakame seaweed menu - Iwate prefecure
Ultimate and supreme menu for longevity - Nagano prefecture
Ultimate and supreme low calorie with high nutrition chicken menu - Fukuoka prefecture
Both newspapers are appointing high profile representatives from their companies to work on the menu. To win the battle, the menu should reflect the issues of modern society and possible the solutions to them through food, just like in manga.
Source: Crank-in!
(C)雁屋哲・花咲アキラ/小学館・ビッグコミックス