Chinese cosplay performance group on stage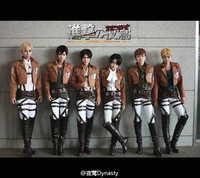 A few months ago, a fan-made Attack On Titan video featuring K-Pop song This Love by Shinhwa made the news and now there's a cosplayer performance to go with it! Plus, a teaser for the next version of this song that we may be able to look forward to in the future.
Chinese cosplay performance group Nightingale Dynasty on stage during a cosplay event in China, near Beijing.
Yes, they are all female.
Just in case you have not seen the video that inspired the performance.
via yuumei
The fan-made video even inspired a Titan verson. Let's hope for another cosplayer group to work on this.
Source: Nijimen