New volume of "Hellsing" creator Kohta Hirano's "Drifters" is also scheduled for March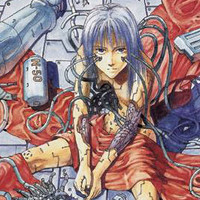 Hiroki Endo's violent sci-fi manga Eden: It's an Endless World ended its Japanese run 2008. It's critically acclaimed. It made the New York Time's best seller list. However, the last time Dark Horse released a volume was August 31st, 2011. Finally, the next volume has been solicted.
Endo and Attack on Titan's Hajime Isayama have more than a bit of mutual admiration, and it doesn't hurt that Endo's follow up to Eden, All Rounder Meguru is built around the Isayama's subject of mixed martial arts.
Eden: It's an Endless World! Volume 14 TP
Hiroki Endo (W/A/Cover)
On sale Mar 26
b&w, 232 pages
$12.99
TP, 5" x 7"
Hiroki Endo's epic manga series returns to blow fans away with a 232-page volume crammed with jaw-dropping battle sequences and strange sci-fi twists! Several years after our last volume, Elijah is still on a mission to free his sister from the Propater organization's clutches, but an older Mana has some skills of her own—and a lethal bodyguard to boot!
A new volume of Hellsing creator Kohta Hirano's Drifters is also scheduled for March
Drifters Volume 3 TP
Kohta Hirano (W/A/Cover)
On sale Mar 12
b&w, 216 pages
$12.99
TP, 4 1/2" x 7 1/4"
Heroes from Earth's history—"Drifters"—battle to determine the future of an enchanted world facing the onslaught of the malefic Dark Lord and his own Earth warriors. Allied with the native elves, samurai warrior Shimazu Toyohisa forges a daring plan: an alliance between elves and dwarves, both sworn enemies!
• One of the most anticipated manga series of recent years.
• Wild, action-packed series featuring historical characters such as Joan of Arc, Hannibal, and Rasputin!
• Listed as one of Da Vinci magazine's Top Manga of 2013!
------
Scott Green is editor and reporter for anime and manga at geek entertainment site Ain't It Cool News. Follow him on Twitter at @aicnanime.