O filme estreia em fevereiro de 2014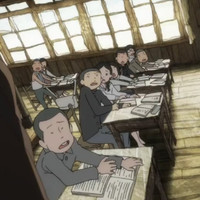 O estúdio Production I.G. está a trabalhar numa produção animada desenhada completamente à mão: a longa-metragem Giovanni's Island ("A ilha de Giovanni" ou, no original, Giovanni no Shima). O filme, que tem estreia marcada no Japão para 22 de fevereiro de 2014, segue dois rapazes: Junpei e o seu irmão mais novo, Hirota, que vivem com os seus pais na outrora pacífica ilha do norte entre o Japão e a União Soviética. Em 1945, as suas vidas veem-se abaladas pelo primeiro amor e por tragédia. A história retrata os seus sentimentos florescentes por uma menina russa, o caos e o medo devido à ocupação militar e os laços de família. Segue-se o primeiro vídeo promocional divulgado pelo site oficial:
O filme será realizado por Mizuho Nishikubo, colaborador de longa data de Mamoru Oshii, com argumento de Shigemichi Sugita (From the Northern Lands) e Yoshiki Sakurai (Ghost in the Shell: Stand Alone Complex).
Como resultado do conflito mais desastroso que a humanidade alguma vez experienciara, a minúscula ilha de Shikotan foi integrada no oblast [província] de Sakhalin... e, na fronteira ressentida deste canto remoto do mundo, a amizade entre crianças de dois países diferentes floresce timidamente, esforçando-se para ultrapassar as barreiras da língua e os rancores da história. Inspirado em acontecimentos reais.
A 15 de agosto, disseram-nos que tínhamos perdido a guerra.
Naquela altura, não compreendemos muito bem.
Então, um dia, tudo mudou.
Inúmeros soldados, usando uniformes que nunca antes víramos, chegaram à ilha.
Foi nesse dia que conheci a Tanya.
via: Anime News Network e animeanime.jp
---
Gustavo Silva é contribuinte de notícias lusitano na Crunchyroll.pt e amante de animes, música e cultura japonesa. Visita o seu perfil e segue-o no Twitter.