J-drama in 1985 inspired the retro song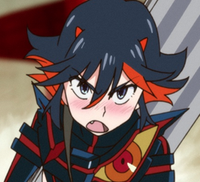 There are many things (and assets) that are grabbing fans attention in Kill la Kill, but the ending theme in Gomen ne, Iiko Jya Irarenai. (Sorry, I can't Be A Good Girl Any Longer) is also stimulating the hearts of older fans for its retro melody and footage for a good reason! A fan in Japan identified the source of the video to be the theme of the J-drama Sukeban Deka (translation would be Delinquent Girl Detective from Wikipedia) in 1985.
Here is side-by-side comparison by @dog_mask, with Kill la Kill on the left and Sukeban Deka on the right. Sukeban Deka is a J-drama based on a shojo manga by Wada Shinji and first made into a live-action drama in 1985, starring Saito Yuki as you see in the image above.
The anime version of the CD cover, above. The release date for the Kill La Kill ending theme mini-album is on November 13th, the anime version comes with a cd that includes 3 songs plus 2 instrumentals and a DVD that contains the non-credit version of the ending and a special music video for 1500 yen.
The regular version has the singer, Sawai Miku (who is an actual high school student) on the cover for 1300 yen that includes a CD with 3 songs and 1 instrumental.
Animation studio Trigger, who is responsible for Kill la Kill has stated numerous times in previous interviews that the anime is a tribute to media in the Showa period, citing classic Japanese anime such as Dokonjo Gaeru for talking clothing and Ryuko wearing a sailor uniform in the anime while the blazer became the school uniform of the majority in modern day Japan. The ending theme turned out to be another aspect of the show that is paying an homage to the Showa period as well.
Source: excite news NAVAR
(C)TRIGGER・中島かずき/キルラキル製作委員会
(C) Shinji Wada / TOEI