Author of the light novels that inspired anime does some global outreach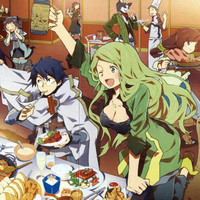 Before they became anime... Before they were published light novels.... Maoyu and Log Horizon were stories that Mamare Touno serialized online on venues like 2channel. So, maybe it shouldn't be too surprising that after an English speaking fan engaged the author to clarify whether Log Horizon's in-series game had a prostitute class, Mamare Touno jumped on the anime board for the anime for the English equivalent, 4chan, for an impromptu Q&A.
It started off...
Regarding some doubts about the prostitute class, the author gave me an answer

"It is a difficult question. Because there are a variety of cultural history."

"Culture, such as "Dayu", "Yukaku" of medieval Japan will help the understanding."

" Alternatively, such as culture and intrigue court romance medieval Europe, the salon you will also help."

" Whatever the case may be, understanding that is a prostitute, it is beside the point."

In any case just check his twitter to see that I'm not BSing you.

@marmalade_macro
Read the archived thread here.
Comments include:
"I'm enjoying Kill la Kill and Kyousougiga. And aside from that, Non Non Biyori."

Hello. My editors are hard at work.


The anime is on it's 3rd episode, and I still can't tell if it's popular or not.
(as far as I can understand)
I was a bit worried about having NHK (Japanese state-funded channel) air it.
Does the youth of the world know about current Japanese culture?
Do you know about the most common thing of the past 10 years?

NHK is a state-funded channel. And I didn't want it to have a short lived popularity based around the number of girls.
It was a project discussed in many meetings.
So me being here conversing with the English community is one of the first steps of the anime's success
By which I mean that it reached all of you(≧∀≦)
Favorite character
"Whoever I'm writing at the moment. My favorite characters are always the ones who appear in that scene."
Q: "Can an alchemist create drinks and alcohol or is that only a brewer thing?"
"Both. The number of things they can do increases as they progress. One of the themes is that the world is expanding."
"One of the themes is that the world is expanding
Q: "Do BD/DVD matter or are only tv ratings important?" A: "TV ratings and support from fans, both Japanese and overseas."
It's state-funded, so foreign relations are important."
Inspirations include Everquest 1 & 2, Ultima Online, Diablo 1 & 2 and many other games
Rosegarden Princess is basically a NEET subclass
finally
"I'm sorry, everyone. It's 7:15 in Japan right now. Time for breakfast."
"I think I'll have to call it a day here. Thank you for all your support!"
------
Scott Green is editor and reporter for anime and manga at geek entertainment site Ain't It Cool News. Follow him on Twitter at @aicnanime.