What does it mean when a character guide or wiki page lists someone's blood type?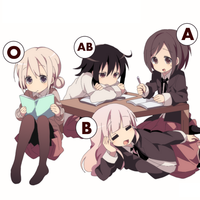 The history of blood type horoscopes is still pretty fraught. In the 1970's Masahiko Nomi journalist/lawyer's book onthe subject popularized that belief that ABO blood types could predict personality, previously seen in a pseudo-science steeped in militarism and racism back in the 1920's and 30's.
Books on the subject still make the Japanese best seller list, and, if you're particularly unlucky, you could encounter on the blood type discrimination on the playground, the dating scene or the job market. There's even a word for blood type harassment, "bura-hara" (wasei-eigo-a portmanteau of "blood" and "harassment").
Despite the baggage, anime and manga love using blood types as signifiers of character traits. What character guide or wiki page fails to list them? From Naruto to Pyscho-Pass, you'll probably be able to find out your favorite anime character's blood type listed somewhere.
@05aren's visual guides to blood types aren't totally new, but they are making the rounds on the Japanese blog again and are worth a look.
or
Type A
Best traits
Earnest, creative, sensible, reserved, patient, responsible
Worst traits
Fastidious, overearnest, stubborn, tense
Type B
Best traits
Wild, active, doer, creative, passionate, strong
Worst traits
Selfish, irresponsible, unforgiving, erratic
Type AB
Best traits
Cool, controlled, rational, sociable, adaptable
Worst traits
Critical, indecisive, forgetful, irresponsible, "split personality"
Type O
Best traits
Confident, self-determined, optimistic, strong-willed, intuitive
Worst traits
Self-centered, cold, doubtful, unpredictable, "workaholic"
------
Scott Green is editor and reporter for anime and manga at geek entertainment site Ain't It Cool News. Follow him on Twitter at @aicnanime.