Live action play opens in January 2014 in Tokyo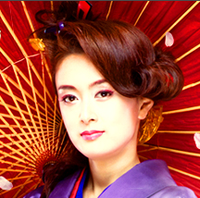 The live-action theater play based on the novel The Eccentric Family by the Japanese theater group Atelier Duncan will open next year in Tokyo and, of course in Kyoto. Ticket sales open next week in Japan for both locations. The play is subtitled as "Shichi Henge Ongaku Geki (7 Transformation Musical)" and this will be the second time that Atelier Duncan works with the novel by Morimi Tomihiko.
<CAST>
From left:
Takeda Kohei as Shimogamo Yasaburo
Watanabe Daisuke as Shimogamo Yaichiro
Niigaki Risa as Kaisei
Sato Miki as Benten
From left:
Juri Sakiho as Mother
Kubo Chukichi as Shimogamo Souichiro
From left:
Okuda Tsutomu as Shimogamo Yajiro
Fujiwara Kaoru as Shimogamo Yashiro
The Tokyo stage opens on January 16th, 2013 for 10 days at Shimokutazawa, Japan. Kyoto only has one day on February 8th. Ticket prices are set at 6,500 yen.
Copyright (C) 2013 ATELIER DUNCAN All rights reserved.