Not just a Justaway, it's a winning horse!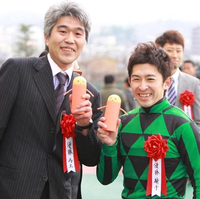 A huge win came to Yamatoya Akatsuki, an anime screenwriter famous for his work with Gintama when his racehorse named "Justaway" won the Tenno Sho (Emperor's Prize) Horse Race on October 27th in Japan. The Tenno Sho Horse Race is held twice a year, in spring and autumn and they are International Grade I races, on par with other international horse races.
For those who are not familiar, the Justaway is a device in Gintama that is nothing more and nothng less than Justaway. Watch episode 31 for details.
Photo via Sanspo
Justaway was 5th in terms of odds to win but smoked the race by 4 lengths and received 132 million yen in winning prize money with the time of 1 minute 57 seconds 5. The winning ticket's dividend is 1550 yen.
The twitter account for horse racing magazine Keiba Book also posted the photo of Yamatoya (left), jockey Fukunaga Yuichi and trainer Sugai Naosuke with Justaway in their hands after the winning race. Yamatoya is known to be a huge horse racing fan and the name of characters of Ixion Saga DT that he worked on mostly came from names of well-known racehorses.
Copyright(c) 2013 The Sankei Shimbun. & SANKEI DIGITAL INC. All rights reserved.