Now it's the ladies' turn to tell us which anime to watch for moe feelings from the ladies towards male friendship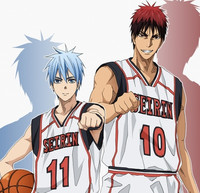 To clear up some confusion, just like the title of yesterday's poll about female friendship, the literal translation of the original title of this poll is "Females voted! Anime that they moe over male friendship", which means that people voted on anime that they watch for examples of male friendship in the show. Goo Ranking posted the results of their poll recently that asked registered Goo research monitors to vote in September and here are the results.
#1 ONE PIECE 100
©尾田栄一郎/集英社 ©尾田栄一郎/集英社・フジテレビ・東映アニメーション
#2 Lupin the Third 93.9
(C) 006 MONKEY PUNCH・NTVM・TMS
(c) Inoue Takehiko, I.T. Planning Inc. / Shueisha Inc.
©空知英秋/集英社・テレビ東京・電通・サンライズ・アニプレックス
(C)許斐剛 TK WORKS/集英社 ・テレビ東京 ・NAS
(c) Masashi Kishimoto / 2007 Shippuden
(c) Tadatoshi Fujimaki © SHUEISHA Inc.
#8 BAKUMAN 38.4
(C) Tsugumi Oba/Ken Obata © SHUEISHA Inc.
(C) Yoshihiro Togashi 1990年-1994年 (C)ぴえろ/集英社
©POT(冨樫義博)1998年-2011年 ©VAP・日本テレビ・集英社・マッドハウス
UPDATE: Since many of you asked, here is the rest of the ranking.
#11 Attack On Titan
#12 Dragon Ball
#13 Natsume Yujincho and Full Metal Alchemist
#15 REBORN!
#16 Rurouni Kenshin
#17 BLEACH
#18 Nintama Rantaro and Ookiku Furikabutte

#20 JoJos Bizarre Adventure and Free!
#22 Shaman King
#23 Blue Exorcist
#24 Saint Seiya and Magi
#26 Hikaru No Go and Saiyuki
#28 Daily Lives Of High School Boys

#29 D. Gray-man, Hakuoki and Haikyu!!
#32 Mobile Suit Gundam SEED, Uta No Prince Sama and Sengoku BASARA
#35 Code Geass: Lelouch of the Rebellion, Chihayafuru and Durarara
#38 Kids On The Slope and Axis Powers Hetalia
#40 Mobile Suit Gundam W, Inazuma Eleven Series, TORIKO and Tiger & Bunny
#44 Eyeshield 21
#45 Fate/Zero and FAIRY TAIL

#47 Romeo's Blue Sky and Hoshin Engi
#49 GetBackers and YowaPeda