PreCure's popularity still going strong in Japan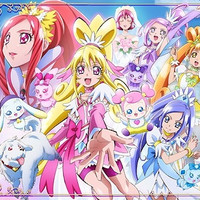 As reported, the latest PreCure Film Dokidoki! PreCure: Mana Kekkon!!? Mirai ni Tsunagu Kibou no Dress (Mana's Getting Married!!? The Dress of Hope Led to the Future) opened in 199 screens on October 26. The 15th PreCure film sold 191,918 tickets and earned 213,410,200 yen (about US$2,186,132) during its opening weekend. This is the biggest opening weekend record for a non-All Stars PreCure film released in autumn. A PreCure film is released in spring and autumn each year.
The past record holder was the 2010 film Heartcatch PreCure! Hana no Miyako de Fashion Show…Desu ka!? which earned 203,394,700 yen in the first weekend. It is also 110% more than last year's autumn film Smile PreCure: Ehon no Naka wa Minna Chiguhagu! (192,792,900 yen). The biggest opening weekend record in the whole PreCure films was PreCure All Stars DX2: Kibouno Hikari—Rainbow Jewel o Mamore!, the 2nd All Stars film's 318,521,200 yen.
-PreCure Film's opening weekend records:
1. PreCure All Stars DX2: Kibouno Hikari—Rainbow Jewel o Mamore! (318,521,200 yen/March 20, 2010)
2. PreCure All Stars DX: Minna Tomodachi—Kiseki no Zenin Daishugo (238,659,561 yen/March 20, 2009)
3. Dokidoki! PreCure: Mana Kekkon!!? Mirai ni Tsunagu Kibou no Dress (213,410,200 yen/October 26, 2013)
4. Heartcatch PreCure!: Hana no Miyako de Fashion Show…Desu ka!? (203,394,700 yen/October 30, 2010)
5. PreCure All Stars New Stage : Mirai no Tomodachi (200,899,352 yen/March 17, 2012)
6. PreCure All Stars New Stage 2: Kokoro no Tomodachi (200,084,961 yen/March 16, 2013)
7. Smile PreCure: Ehon no Naka wa Minna Chiguhagu! (192,792,900 yen/October 27, 2012)
8. Suite PreCure♪: Torimodose! Kokoro ga Tsunagu Kiseki no Melody (190,868,797 yen/October 29, 2011)
9. Futari wa PreCure Max Heart Movie (186,090,339 yen/April 6, 2005)
10. Yes! PreCure 5: Kagami no Kuni no Miracle Daibouen!? (173,059,919 yen/October 10, 2007)
11. Fresh PreCure!: Omocha no Kuni wa Himitsu ga Ippai!? (171,681,893 yen/October 31, 2009)
12. Yes! PreCure 5 GoGo!: Okashi no Kuni no Happy Birthday (158,280,595 yen/November 8, 2008)
13. PreCure All-Stars DX3: Mirai ni Todoke! Sekai o Tsunagu Niji-Iro no Hana (133,163,870 yen/March 19, 2011)
14. Futari wa PreCure Max Heart Movie 2: Yukizora no Tomodachi (117,380,876 yen/December 10, 2005)
15. Futari wa PreCure Splash☆Star: Tick Tack Kiki Ippatsu! (55,540,415 yen/December 9, 2006)
(via: Box Office Mojo)
---
The trailer
Green Carpet at the 26th Tokyo International Film Festival
The flyer
Source: Mantan Web
© Movie Dokidoki!PreCure Production Committee