Nearly twice the record of Akira Toriyama's Dragon Ball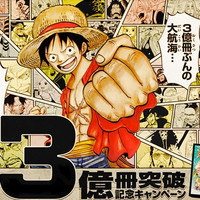 Japanese publisher Shueisha announced on October 30 that Eiichiro Oda's super popular manga One Piece would have 300 million copies in print with the 72nd volume of the manga which was scheduled to be released in Japan on November 1. One Piece is their first manga series breaks the record. It is nearly twice more than the record of the second most successful manga in the publisher's history, Akira Toriyama's Dragon Ball (152 million). And the One Piece manga is still going strong. The 71st volume of the manga which was published in August 2013 had 4 million copies in its first printing.
In commemoration of the record, collaboration advertisements titled "Across Japan! OPJ47 Cruise" featuring One Piece characters to promote local specialties and tourist spots will be published in the local newspapers in 47 prefectures in turn between November 1 and 20. The first characters will appear in the ads series are Kuzan for Hokkaido Shimbun and Fujitora for To-o Nippo on November 1.
The 72nd volume cover
The ad for Hokkaido Shimbun
The ad for for To-o Nippo
Source: Yomiuri, Comic Natalie
© Eiichiro Oda/Shueisha