Starts Saturday, November 2, at 7:00pm Pacific Daylight Time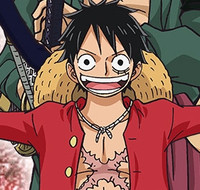 Not a joke, not a Halloween trick…. After countless requests, wishes, and demands, it's really happening! ONE PIECE IS COMING TO CRUNCHYROLL!
Here are the facts: Crunchyroll has acquired Toei Animation's long-running anime series One Piece as part of its fall simulcasts, and is set to broadcast every Saturday starting on November 2, at 7:00pm Pacific Daylight Time with episode 619 for both premium and free users. Previous episodes will be available on Crunchyroll at a later date. More information can be found on www.crunchyroll.com/onepiece.
Background and story
Consistently one of the top-ranked manga and anime series in Japan, Eiichiro Oda's One Piece is a colorful, fun-filled adventure with a delightful cast that has been amazing viewers for over 10 years now.
One Piece sets sail on the high seas with Monkey. D. Luffy as he and his crew, the Straw Hat Crew, search for the ultimate treasure, One Piece. Currently in its 16th season, the Punk Hazard arc, the Straw Hat Crew find themselves heading to the island of Punk Hazard answering a distress call originating from there. Once ashore, they discover an ex-navy scientist, Caesar Clown, performing experiments on children. Teaming up with the prisoners on the island, Luffy and his crew attempt to stop Caesar and his henchman once and for all.
One Piece will be available to Crunchyroll's audience in the following territories: USA, Canada, South Africa, Australia, New Zealand, and Latin America.
So there you have it. You wanted it, you got it. One Piece on Crunchyroll!
UPDATE: The stream is LIVE! WATCH ONE PIECE HERE!
---------
Patrick Macias is editor in chief of Crunchyroll News. He is also the editor of Otaku USA magazine. Check out his blog at patrickmacias.blogs.com and follow him on Twitter.