For the special concert featuring the anime voice cast on December 1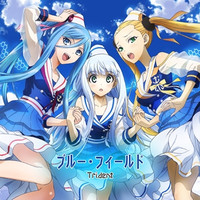 To promote the upcoming concert "Arpeggio of Blue Steel - Ars Nova- LIVE 'Blue Field'" at Zepp Tokyo on December 1, FlyingDog has posted a music video featuring three character songs by Takao (CV: Manami Numakura), Maya (MAKO), and I-400& I-402 (Rina Hidaka&Nozomi Yamamoto) on its official YouTube channel. The concert will feature the main voice cast of the anime including Trident, a voice actress unit performs the ED theme "Blue Field," which is composed of Mai Fuchigami (Iona), Manami Numakura (Takao), and Hibiku Yamamura (Haruna).
Arpeggio of Blue Steel is now available to the Crunchyroll audience in North America, the United Kingdom, Ireland, Australia, New Zealand, the Netherlands, Scandinavia, South Africa, Central America, South America, the Caribbean, Turkey, Italy, Austria, Germany, Lichtenstein, Luxembourg, Switzerland, Belgium, Poland, Denmark, Czech Republic, Hungary, and Romania.
Character song PV1
-"Be uinited" by Takao (Manami Numakura)
-"Toremolo" by Maya (MAKO)
-"Inapplicability" I-400& I-402 (Rina Hidaka&Nozomi Yamamoto)
"Blue Field" short PV by Trident (Mai Fuchigami, Manami Numakura, Hibiku Yamamura)
Original soundtrack 1 crossfade PV
© Ark Performance/Shonen Gahosha/Arpeggio Partners