6th album "Kuchu Puzzle" will be released on November 20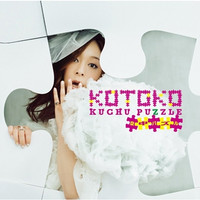 Warner Home Video Japan's official YouTube anime channel has posted a short version promotional video for popular anison singer KOTOKO's latest song "My-Les" and 15-second TV CM for "SHOOT!." Both songs are contained in her 6th album "Kuchu Puzzle," which is scheduled to be released in Japan on November 20. The album also includes "Light My Fire" (Shakugan no Shana Final 1st OP), "Loop-the-Loop" (Motto To Love-Ru OP), and "→unfinished→" (Accel World ED). "SHOOT!" was originally written for the 1st single of voice actress unit RO-KYU-BU!" and used as the OP theme for the TV anime.
KOTOKO has written and performed for various anime series including Please Teacher, Please Twins, Tweeny Witches, Kannazuki no Miko, Starship Operators, Shakugan no Shana, Maria Watches Over Us, Hayate the Combat Butler, and Kamen no Maid Guy.
"My-Les" short PV
TV CM featuring "SHOOT!"
Limited edition CD cover
Regular edition CD cover
© Mutant Dwarf