1997 TV anime & 1999 film directed by Kunihiko Ikuhara (Sailor Moon)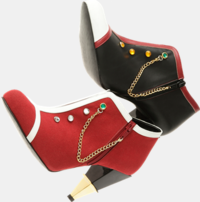 2PMWORKS, online store specialized in collaboration apparel goods with popular anime series operated by Animate, has started accepting pre-orders for two new booties inspired by Utena Tenjo and Anthy Himemiya, the two main characters from the Revolutionary Girl Utena anime series. Both the 1997 TV anime and 1999 film (titled Revolutionary Girl Utena: The Adolescence Apocalypse) were directed by Kunihiko Ikuhara (Pretty Guardian Sailor Moon, Mawaru Penguindrum) and acquired a cult following.
The booties are collaboration models with Kobe-based shoes brand TyakeTyoke which also produced the Madoka Magica pumps. The price for both the Utena and Anthy model is 17,640 yen (about US$178.88). The scheduled delivery day is in late February of 2014.
Utena Tenjo Model
Anthy Himemiya Model
The promotional art for the original anime arts exhibitions in 2013

via: Netlabo

© Be-Papa's , Chiho Saito/Shogakukan, Shokaku Iinkai, TV Tokyo
© 1999 Revolutionary Girl Utena Production Committee
© King Record. Co., Ltd.