The voice of Mikoto Minagi (My-HiME), Suzuka Tsukimura (Magical Girl Lyrical Nanoha)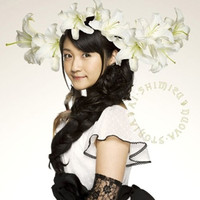 There have been many anime series featuring professional wrestling such as the classic titles like Tiger Mask, Kinnikuman, and the most recent Wanna be the Strongest in the World!. But she will be the first anime voice actress who fights in the Japanese wrestling ring in history.
Anime voice actress/singer Ai Shimizu revealed on her official Twitter account on November 2 that she would make her professional wrestling debut for a local group in Fukuoka Prefecture Gamushara Pro-wrestling on December 1. She will fight in their 10th anniversary event GAMSHARA OLYMPIC'2013 at Kitakyushu Performing Arts Theater. Her opponent and the style of the match have not been announced yet. According to one of her replies to the fans, she will actually fight in the ring as a wrestler, not just a guest of the event. Can she maintain the two jobs?
Shimizu, who is 32-yea-old and 154cm-tall, made her debut as a voice actress with Alex in the OAV Vandread Integral in 2001. She is best known for her voice works as Mikoto Minagi in the My-HiME series and Suzuka Tsukimura in the Magical Girl Lyrical Nanoha series. She is currently voicing Mio Kisaki in Walkure Romanze and Marie Hanazono in Jewelpet Happiness.
The new official promotional poster featuring Shimizu
The official promotional poster of the event
Her 1st album "Hatsuga Jyouken M" cover
Her 2nd album "NUOVA STORIA" cover
Her 6th single "Chimeric voice" cover
7th single "Tokei to Mahou no Biscuit" short PV
via: Otasuke