Campaign launched with original developer's blessing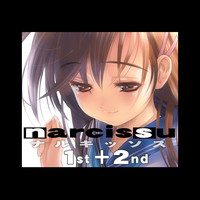 Steam Greenlight has proven that no matter how known or unknown the game or franchise, given enough support, a game can make it through the program, since it was created to allow developers a shot to make it onto the popular game delivery platform regardless of notoriety or stature. Because of this, visual novels have been given a shot to land on the service, something that previously wasn't the case.
Now, the latest visual novel project to aim for its own spot on Steam in Narcissu looks to continue the original Japanese developer's goal of offering a high-quality visual novel for free, with developer Stage-Nana's blessing to translate the games in English, provided the new versions also be be made available for free. Below, the synopses for both games.
Summary of Narcissu 1st:
The hospital's 7th floor, the hospice. It was a place to simply wait for one's life to flicker out. A young man diagnosed with a terminal illness is transferred to that floor. There he meets another young patient, Setsumi. Faced with choosing to die either at home or the hospital, the two slip out of the hospital and their long winter journey begins...


Summary of Narcissu 2nd:
Set a few years before the events of Narcissu 1st, when Setsumi was still just a regular outpatient at the hospital. One day, while going for a regular check up, she happens to meet Himeko, a former 7th floor helper and current resident of the 7th floor. They become friends and their summer story begins...
The campaign video for the game showcasing the intro with retro karaoke subs:
Narcissu Steam Greenlight page
---
Humberto Saabedra is the Owner of AnimeNews.biz, Editor-in-Chief of PhoneNews.com and a part-time recording engineer. He can also be found musing on things (and Nico Robin) at @AnimeNewsdotbiz