Other figures on display include "Madoka Magica," "Evangelion" and "Card Captor Sakura"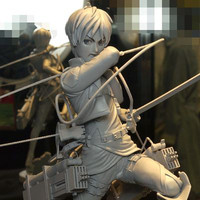 Been drooling over those upcoming Attack on Titan figures by Good Smile and Max Factory but can't afford them? Sega showed up at the 34th Prize Figure Fair to show off their upcoming goodies that might not have the same quality but will certainly be a little lighter in the price tag.
Mikasa is set for release in March.
Gargantia on the Verdurous Planet's Amy is due in May.
Evangelion figures are due out in April and May.
Sword Art Online's Asuna and Suguha are due out in June.

Some other goodies on display include these Attack on Titan figures, which should be out in May (Eren) and June (Mikasa).
Card Captor Sakura is due out in April.
From the Banpresto booth, Madoka Magica's Homura and Madoka, due out in April/May.
Also from Banpresto, Attack on Titan chopsticks and some random titans, due out in April.
Via Moeyo (NSFW)
-------
Amanda Rush is the Associate Editor for Ani.Me and contributor for OtakuCollectionDX. She swears in the middle of the night on Twitter as @TheAnimaven.