New rescue confirmed along with other details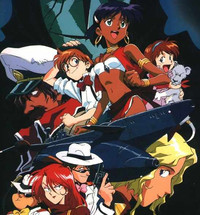 Sentai Filmworks held its panel at the Animaine convention this weekend teasing a new license rescue announcement and did not fail to deliver, as the distributor announced the rescue of Nadia: The Secret of Blue Water as its latest rescue. The TV series, previously released by the "former" ADV Films will be released on Blu-Ray and DVD, with the possibility of adding the omake to the new release.
The company also took time out to confirm a couple of its March 2014 releases with the Maria Holic Live Blu-Ray/DVD release including an English dub along with Upotte! On the subject of the long awaited Sunrise rescues, the company still has no concrete schedule for those titles, noting that release dates are still being negotiated.
Sentai also had no updates regarding the home video release of From The New World, with Overman King Gainer, Nichijou and Gosick the latest titles to fall under the infamous "cannot confirm/deny license" blanket statement along with the first three seasons of Familiar of Zero. Finally, regarding the possibility of licensing both Heroman and the films of Satoshi Kon, the company was unclear on the current licensing status of the titles, but did express interest in the titles if they were available for acquisition.
with very special thanks to Crunchyroll user @RootsofJustice
---
Humberto Saabedra is the Owner of AnimeNews.biz, Editor-in-Chief of PhoneNews.com and a part-time recording engineer. He can also be found musing on things (and Nico Robin) at @AnimeNewsdotbiz