140th volume collected October 25th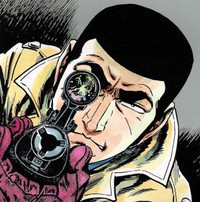 It's a season of milestones for manga's most unstoppable assassin. Last month, the landmark 140th volume Golgo 13 was collected. Now, it's time for home magazine Big Comic to pay tribute to 45 years of Duke Togo's remarkably stoic brand of sex and violence with a collection of illustrations from 51 manga and cover artists.
Featured in the year's 22nd issue, on sale last weekend, the list of contributors included
Osamu Akimoto (KochiKame)
Mitsuru Adachi (Cross Game)
Yaro Abe (Shinya Shokudou)
Ryoichi Ikegami (Crying Freeman)
Shinichi Ishizuka (Gaku)
Keisuke Itagaki (Grappler Baki)
Junji Itou (Uzumaki)
Takehiki Inoue (Slam Dunk)
Naoki Urasawa (Monster)
Eiichiro Oda (One Piece)
Eiji Kazama (Kaze no Daichi)
Nampei Kaneko (cover caricature artist)
Kaiji Kawaguchi (Eagle: Making of an Asian American President)
Kenichi Kitami & Juzou Yamasaki
Hiroshi Kurogane
Yoshiie Gouda (Happily Ever After)
Yuu Koyama (Azumi)
Ryouhei Saigan (San Chōme no Yūhi)
Reiko Saibara(Mainichi Kaasan )
Kei Sadayasu (Ah -- Harima-nada)
Kenichirou Takai (Soumubu Soumuka Yamaguchi Roppeita)
Shin Takahashi (Saikano)
Rumiko Takahashi (Ranma 1/2)
Jiro Taniguchi (A Distant Neighborhood)
Hideki Tamei (cover caricature artist)
Abe Yarou (Yamamoto Mimikaki-Ten)
Midori Natsu (Juui Dolittle)
Tetsuya Chiba (Ashita no Joe)
Yukata Toudou (S - Saigo no Keikan)
Tsuyoshi Nakaima (Ucchare Goshogawara)
Mariko Nakamura (Gal Boy!)
Moto Hagio (Drunken Dream)
Mitsuo Hashimoto (Tsukiji Uogashi Sandaime )
Shinji Hikino (Big Wing)
Kenshi Hirokane (Human Crossing)
Nobuyuki Fukumoto (Akagi, Kaiji)
Fujio Fujiko (A) (Doraemon)
Yukinobu Hoshino (2001 Nights)
Fujihiko Hosono (Crusher Joe)
Taiyou Matsumoto (Tekkon Kinkreet)
Shigeru Mizuki (Gegege No Kitaro)
Shinji Mizushima ( Yakyū-kyō no Uta)
Norifusa Mita (Dragon Zakura)
Motoka Murakami (Jin)
Makoto Muramatsu(cover artist)
Hiroshi Motomiya (Golden Boy)
Shinri Mori (Denden Yumiko)
Keisuke Yamashina (Sengoku)
Osamu Yamamoto (Harukanaru Koushien )
Mari Yamazaki (Thermae Romae)
Satoshi Yoshida (Shonan Bakusozoku)
Sensha Yoshia (Utsurun Desu)
caricature of author Takao Saito on the issue's cover
Rumiko Takahashi
Kenshi Hirokane
Abe Yarou
Eiichiro Oda
------
Scott Green is editor and reporter for anime and manga at geek entertainment site Ain't It Cool News. Follow him on Twitter at @aicnanime.