Incident occurs when Anime Festival Asia attendees mingled with church services goers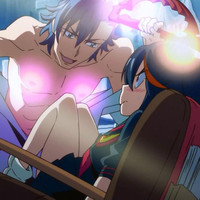 Sometimes the general populace greets cosplay with welcome amusement, and sometimes if you try to mix otaku culture with other society, disaster occurs. The classic example for that is when Florida's Metrocon shared a convention center with Red Bull Flugtag.
And now, on a smaller scale, mingling crowds from Singapore's Anime Festival Asia and a church service resulted in police being called on a Kill La Kill cosplayer.
No arrests were made, but apparently religiously inclined folks aren't too fond of public displays of Ryuko's transformed attire.
A forum report explains:
The event was at Suntec City, which has had quite a few of its shares bought by a company owned by City Harvest Church, and some of the event halls are used by said megachurch to hold services.
This incident happened in the space outside the event hall where a lot of cosplayers had set up impromptu photography areas. (The windows you see are the glass front over the convention centre area.)
Allegedly (this last part is hearsay, but reliable hearsay), the woman (the one with the bare arms and hand under her nose) had just come down from a church service in the upper floors and basically totally flipped out.
The police did not arrest anyone, and the cosplayer in question is not in trouble, although she was rather traumatised.
I guess next time you plan out your costume, you might want to check out the public indecency laws along with whether your prop weapons violate local statutes.
------
Scott Green is editor and reporter for anime and manga at geek entertainment site Ain't It Cool News. Follow him on Twitter at @aicnanime.