2014 Snow Miku and companion designed by fans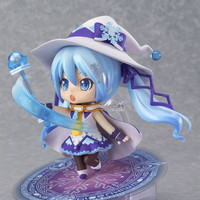 Fans voted back in May to make 2014's Snow Miku a magical girl. Now Kahotan has unveiled the new Nendoroid on twitter, as well as some pictures of a Sapporo bus decorated with the new design. This year's Snow Miku design, as well as her animal companion, were chosen through a contest of fan made art.
The winning entries:
And here's 2014 Snow Miku with her bunny companion.
Via Tomopop
-------
Amanda Rush is the Associate Editor for Ani.Me and contributor for OtakuCollectionDX. She swears in the middle of the night on Twitter as @TheAnimaven.