Sheryl received hand-written messages from 1123 fans in Akihabara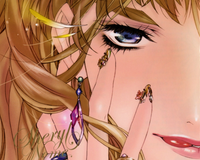 Sheryl Nome from Macross Frontier is still very much alive in fans' hearts with all the birthday wishes she is receiving on her birthday. The Galactic Fairy's new Ichibankuji figure was also on display in Akihabara and the birthday board was filled with hand-written messages from her fans during the event throughout the day.
Bokes Akihabara Hobby Heaven, a hobby shop in Akihabara celebrated Sheryl's birthday by creating a special display with an event for the release of Banpresto's new Ichiban Kuji Premium figure commemorating the release of the new Blu-ray BOX for the Macross Frontier TV series. 1123 fans who left a message on the borad received a special postcard as a souvenir.
From reading messages left here and what's been seen on the internet, Sheryl has inspired many Japanese females to be confident, hard-working and honest while being playful.
Seaside Tears 2 reports that at 1pm, the souvenir postcard was numbered at 871, meaning 870 fans has already visited and left messages for the songstress.
New Sheryl figures and other prizes were also on display.
Yes, Ranka-chan was present too, no worries.
Source: Seaside Tears 2
Note: Seaside Tears 2 received special permission to photograph samples of Ichibankiji Premium Macross F in the glass showcase at Bokes.