Event runs from 11/23 to 12/1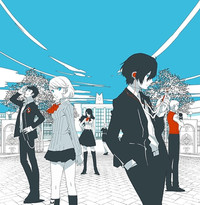 From 11/23 to 12/1 at Odaiba VenusFort, visitors will be able to experience the live mystery event "Persona3 The Movie #1 Spring of Birth x Nazomate."
Participants will play through the fourth event set up by Nazomate, which takes place in the world of the Persona3 Anime. This is to support the 11/23 theatrical release of the Persona3 Movie.
The event's backstory takes place "under a full moon, where players square off against a Shadow in the students' dormintory. They'll need to awaken the secret Persona in themselves. With that, they'll take a test to enter the S.E.E.S."
Visitors who clear the course will receive a Nazomate Character Card (1 of 5) as a present. Those who can't clear the course will receive a special Nazomate "Elizabeth" card. There will be a merchandise booth where additional souvenirs, including a binder and pen set (2,000 yen) and an acrylic folder (600 yen) can be purchased.
Presale tickets to the event are 900 yen, or 2,900 yen with some goods included. Day-of tickets of 1,100 yen for the event and 3,100 with goods.
Links:
"PERSONA3 THE MOVIE #1 Spring of Birth x Nazomate"
"Persona3" Theatrical Version official site