Nana will sing "Preserved" Roses" with T.M.Revolution?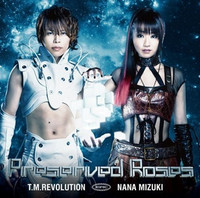 It is officially announced today that Nana Mizuki, who is no doubt the most popular anime voice actress/singer in Japan today, and Linked Horizon, Revo's unit for collaboration projects, will perform in this year's Kohaku Uta Gassen, the New Year's Eve singing program broadcasted by NHK. This is the fifth appearance for Mizuki (five years in a row since 2009) and first time for Linked Horizon, for one of the highest rating Japanese TV programs.
The songs they will sing in the program have not been announced yet. It is easy to assume that Linked Horizon will perform "Guren no Yumiya/Feuerroter Pfeil und Bogen," which was used as the 1st OP theme for the Attack on Titan TV anime and was included in the top-selling anime CD of the year "Jiyu e no Shingeki." The CD was released in Japan on July 10 and has sold more than 200,000 units so far. In the case of Mizuki, some fans believe she will sing "Preserved Roses," her first collaboration song with
T.M.Revolution (4th appearance) and the second top-selling anime song of the year (Valvrave the Liberator
1st OP). Because the number of the male singers/units in the list is one more than the females, and T.M.Revolution
has not released any new singles this year except "Preserved Roses" and "Kakumei Dualism," the second
collaboration song with Mizuki.
"Preserved Roses" CD jacket
Nana Mizuki artist photo
"Jiyu e no Shingeki" CD jacket
Linked Horizon artist photo
Source: NHK