11th PreCure TV series will premiere in February 2014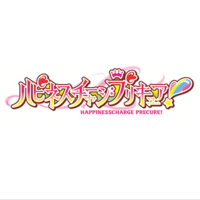 Finally it has become official! Happinesscharge PreCure!, the 11th PreCure TV anime series' title and its title logo are officially revealed in Japan on today November 28. After the very successful ongoing series Dokidoki! PreCure, the 11th series is scheduled to be premiere in Japan in February 2014. No other details about Happinesscharge have yet been announced.
The series will celebrate its 10th anniversary next year. The first TV series Futari wa PreCure started on February 1, 2004. Since then, the popularity of the series has kept growing strongly. In addition to the TV series, two feature films have been released regularly each year. The next film is PreCure All Stars New Stage 3: Eien no Tomodachi (Eternal Friends) which is scheduled to hit Japanese theaters on March 15, 2014, one month after Happinesscharge starts. Though we can't see them in the teaser poster yet, we can assume the latest Happinesscharge girls will be joining the All Stars film as usual.
"Happinesscharge PreCure!" title logo
PreCure 10th anniversary logo
"PreCure All Stars New Stage 3: Eien no Tomodachi" teaser poster
Source: Mantan Web
© ABC/Toei Animation