Popular, yet mysterious female singer sings opening theme for Case Closed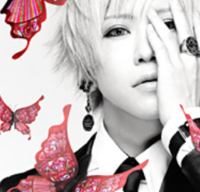 VALSHE gained a significant following with her androgynous vocals, often performing Vocaloid Len songs posted on Nico Nico Douga and subsequently received a record deal in 2010. Her appearance was strictly hidden since then, always portrayed by fellow illustrator Hakuseki as a blond boyish character that reminds fans and onlookers of Len. Her voice was enough to make fans fall in love with her, but she finally unveiled how she looks with the new single, Butterfly Core which will be the latest opening theme for the Case Closed anime.
She looks as awesome as Hakuseki's illustration, don't you think?
Above, the "Butterfly Core" single cover with VALSHE on the left and Hakuseki's illustration cover on the right, revealing the interesting composition! The CD is released on Novemver 27th in Japan in 3 different editions, with VALSHE cover for a regular edition, Hakuseki cover for a special edition and Case Closed edition with Conan on the cover, not pictured here.
Here are snippets of her upcoming single with Hakuseki's illustration as usual. The songs are written by minato, who made his name with the Nico smash hit, Magnet. VALSHE is also getting ready for her first fan club exclusive Live Tour, LIVE THE JOKER 2013.