The manga has sold more than 4 million copies in Japan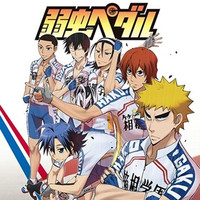 The official site for the ongoing TV anime adaptation of Wataru Watanabe's bicycle racing-themed manga Yowamushi Pedal released the 3rd promotional video today. The latest PV features the protagonists' rival team, the students at Hakone Gakuen, aka Hakogaku. They are Jyuichi Fukutomi (CV: Tomoaki Maeno), Jinpachi Todo (Testuya Kakihara), Hayato Shinkai (Satoshi Hino), Yasutomo Arakita (Hiroyuki Yoshino), and Touichiro Izumida (Atsushi Abe).
Yowamushi Pedal is now available to Crunchyroll users in the following territories: United States, Canada, Caribbean, South Africa, and Central and South America.
Hakone Gakuen students
3rd PV
2nd PV
1st PV
Source: Yowamushi Pedal anime official site
© Wataru Watanabe 8weeklu Shoben Champion/Yoeamushi Pedal Production Committee