Cyntia's "Senkou Strings" hits stores on January 8, 2014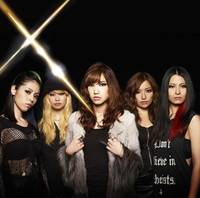 It's a bit strange way to promote a song. Following the 30-second preview introduced 10 days ago, Victor Entertainment divided the promotional video for girls metal band Cyntia's 2nd major single "Senkou Strings" into 2 parts and posted them separately on YouTube. Still the song is good, anyway. It is now featured as the 4th OP theme for Saint Seiya Omega TV anime since the 78th episode.
Saint Seiya Omega is now available to Crunchyroll audience in the United States, Canada, United Kingdom, Ireland, South Africa, Australia, and New Zealand.
First 1 minute 39 seconds of the PV
Second part featuring guitar solo
30-second preview
Cyntia artist photo
artist photo © Copyright 2013 Cyntia
Anime edition CD jacket