Moe Uzumasa, a second year high school girl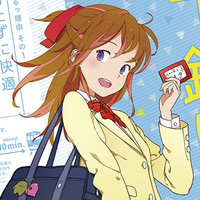 Moe Uzumasa is one of the mascot characters created to promote Kyoto-city's public subway and bus in 2011. She was originally designed by a family of the young staff at Kyoto Municipal Transportation Bureau, which means she was designed by amateurs. The city has featured her in various promotional campaigns, but her recognition has remained very low contrary to their expectations. So they decided to refine her design for the new campaign which is scheduled to be held between late November 2013 and March 2014. This time a professional illustrator who lived in Kyoto-city drew a promotional poster featuring the new Moe Uzumasa, and it has been well-received in the internet with the comments like "Looks like a different person," "Cuter than before," "Very polished," "Changed too much, in a good sense." Which Moe-chan do you like better?
Moe Uzumasa 2013 ver.
Moe Uzumasa 2011 ver.
Source: ITmedia News
© Kyoto Municipal Transportation Bureau