Plus a performance of "Applause"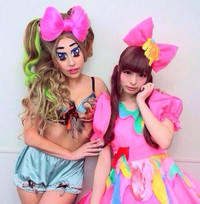 Pop star Lady Gaga appeared earlier today on Japanese TV on the Music Station show wearing anime style "big eye" make-up and yet another one of her crazy outfits. This time, however, she did it in the very presence of Harajuku kawaii ambassador Kyary Pamyu Pamyu herself! Watch the interview segment below and see if you can figure out what's going on...
Some folks out there in internet land says Kyary looks like she wants to dropkick Gaga (they both are wearing big bows, btw), while others say that Kyary is merely concentrating trying to understand what the wacky foreigner is saying. Either way, we swear we're not trying to manufacture a pop controversy here, but this is still pretty surreal stuff…
Lady Gaga was on Music Station to perform her song "Applause" and here's the performance of that...I'm sure few of you bought her latest LP, ARTPOP, because sales have been terrible.
BONUS! Backstage pics of Lady Gaga and Kyary Pamyu Pamyu...
---------
Patrick Macias is editor in chief of Crunchyroll News. He is also the editor of Otaku USA magazine. Check out his blog at http://patrickmacias.blogs.com