A popular bossa nova song from the 1960s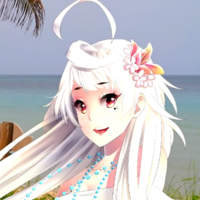 Voctro Labs, a Spanish company working with Yamaha for the development of vocaloid, recently posted a new demo song video by their Spanish vocaloid MAIKA. In the demo, she is singing a popular bossa nova song "Garota de Ipanema" in Brazilian Portuguese. The song was originally composed by Antônio Carlos Jobim and written by Vinicius de Moraes (Portuguese lyrics) in 1962. It is difficult for a Japanese native speaker like me to judge her singing voice, but most of the YouTube comments are very positive, saying as "She sounds so natural." or "I could understand her perfectly." How do you like MAIKA's Brazilian Portuguese voice? She will be released on December 18, 2013.
"Garota de Ipanema" by MAIKA
MAIKA official illustration
Source: Hatsune Mikumiku
© 2013 Voctro Labs, S.L.