Her last concert is scheduled on March 20, 2014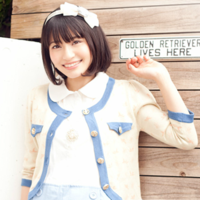 The official site for 24-year-old anime voice actress/singer Megumi Nakajima, who is best known for her voice works for Ranka Lee and her character songs in Macross Frontier, announced today that she will stop her musical activities as of March 31, 2014. She will continue to work as a voice actress for the current and already-announced characters. According to the press release, she wants to reconsider her future in a neutral state.
Her 3rd and last album as a singer Megumi Nakajima, "Thank You," and last live Blu-ray "5th Anniversary Year's Final Live 'Megumi Night Fever'" will be released simultaneously on February 26, 2014. Her last concert is scheduled to be held at Nihon Seinenkan on March 20. The hall is the place where she made her stage debut for the "Macross 25th Anniversary Live ~MINMAY meets FIRE BOMBER~" event on August 18, 2007.
She was born in Ibaragi Prefecture, Japan, on June 5th, 1989. She auditioned to "Victor Vocal & Voice Audition" held by a Japanese record company Victor Entertainment to choose a voice actress/singer for the new TV series Macross Frontier in 2007, and was chosen to play the voice of Ranka Lee in the series. She released her 1st single "Seikan Hikou" as Rank Lee=Megumi Nakajima on June 25th, 2008. The CD took a very good 5th place in the Oricon weekly single chart in the first week. So far she has released 8 singles and 2 albums as a solo singer. She held "5th Anniversary Year's Final Live 'Megumi Night Fever'," to celebrate her 5 years career at Nakono Sunplaza on September 22 this year.
1st single "Tenshi Ni Naritai" Web CM (January 28, 2009)
2nd single "Nostalgia" (March 11, 2009)
3rd single "Jellyfish no Kokuhaku" (December 9, 2009)
4th single "Melody" TV CM (November 24, 2010)
5th single "Kamisama no Itazura" (October 26, 2011)
6th single "TRY UNITE!/Hello" (February 1, 2012)
7th single "Marble/Wasurenaiyo" (August 1, 2012)
8th single "Sonna Koto Ura no Mata Urabanashi Desho?" (January 23, 2013)
1st album "I Love You" (June 9, 2010)
2nd album "Be With You" (March 7, 2012)
Source: Megumi Nakajima official site
© stardust promotion, inc