Directed by Kenichi Imaizumi (Reborn!, Seitokai no Ichizon Lv.2)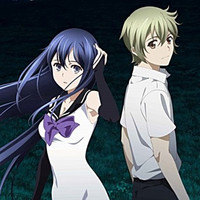 The key visual and main staff for the upcoming TV anime adaptation of Lynn Okamoto's sci-fi manga Gokukoku no Brynhildr (Brynhildr in the Darkness) are revealed to the media today. Okamoto is best known for his 12-volume Elfen Lied manga series (2002-2005) and its 14-episode TV anime adaptation (2004). Gokukoku no Brynhildr has been serialized in Shueisha's Young Jump since early 2012 and so far six tankoubon volumes have been published in Japan.
The TV anime is directed by Kenichi Imaizumi (Reborn!, Seitokai no Ichizon Lv.2) and produced by ARMS (Elfen Lied, Queen's Blade, Wanna be the Strongest in the World). It is scheduled to be premiere on Tokyo MX, Yomiuri TV, BS11, and other Japanese stations in April 2014.
The story centers on a second grade high school student Ryota Murakami. He still can't forget about his
childhood friend Kuroneko who was killed in an accident. To fulfill the promise with her to prove the existence
of extraterrestrial beings, he joins the astronomy club and looks up at the sky every night. One day he
meets a witch named Neko Kuroha who has escaped from a research lab. She looks exactly like Kuroneko....
The main staff:
Director: Kenichi Imaizumi (Reborn!, Seitokai no Ichizon Lv.2)
Script: Yukinori Kitajima (Hamatora)
Character designer/animation director: Hiroaki Karasu (Maoyu)
Production: ARMS (Elfen Lied, Queen's Blade, Wanna be the Strongest in the World)
Manga vol.1 cover
Source: Comic Natalie
© Rynn Okamoto/Shueisha/"Gokukoku no Brynhildr" Production Committee