Plus his version of a Jojo-style Santa Claus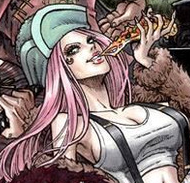 We previously reported on this talented manga artist and illustrator by the name TAKUMI and he keeps posting amazing work! He recently posted his version of a One Piece work that you do not want to miss. Takumi also posted a wickedly charming Santa Claus inspired by Jojo's Bizarre Adventure on his Twitter.
Takumi is gaining more and more fans with his dark and sexy art style. Above, his version of One Piece. What do you think?
Here is his original character with holiday theme, inspired by Jojo's Bizarre Adventure.