Popular Japanese duo made an original song for it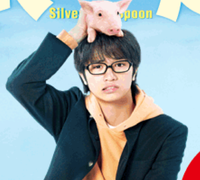 Popular Japanese duo Yuzu was announced to sing the theme song for live-action film adaptation of the Silver Spoon manga, according to the official Facebook account. The movie is getting ready to hit the theaters in Japan in March 2014 and the anime's second season is expected soon.
The song is titled "Hidamari (a sunny spot)" and it was written exclusively for the movie by Yuzu's Iwasawa Koji (pictured right above) after he read and watched the original story and the outline of the movie plot.
Nakajima Kento from Johnny's Sexy Zone will play Hachiken Yugo. Live-action Pork Bowl is looking rather believable above.
Here is some behind the scenes footage from the filming that took place in Hokkaido by the area's local TV station. You can see Nakajima as Hachiken and Hirose Alice as Mikage, and other familiar characters in the cast. Looks like one of the announcers from the local TV station landed a role in the movie as Hachiken's teacher and he had a whopping 17 takes to nail the line, "What happened?".
Source: Natalie