Featuring a new character Kaguya (CV: Nao Touyama)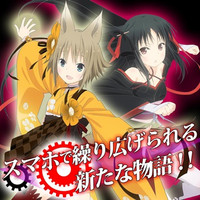 As reported, the 3D action mobile game Unbreakable Machine-Doll: Facing "Burnt Red" has been available for iPhone and Android since December 6. The official site posted the second promotional video featuring the characters including some new ones only appear in the game. The player can experience the world of Unbreakable Machine-Doll as a transfer student. The stories in the game are all supervised by the original novel writer Reiji Kaitou. The site started accepting pre-registrations on November 5 and more than 10,000 players pre-registered for the game in the first three days.
The theme song "Burnt Red" is sung by Hitomi Harada who also voices Yaya as well as in the TV anime series. The song is included in her 6th CD single "Anicca," the OP theme for the TV anime. One of the new characters for the game Kaguya (the yellow costume girl) is voiced by Nao Touyama.
PV2
PV1
Key visual for the game
The new characters for the game Kaguya (CV: Nao Touyama)
© 2013 RK・MF/UMDP
© Machine-doll Game Partners