Character Dining "Characro" polled their guests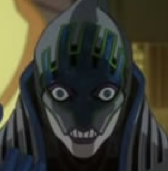 Namco-operated character bar & dining location Characro in Ikebukuro has been hosting a Tiger & Bunny themed cafe since the end of October. As a part of the visitor attraction, guests can vote on a poll that changes themes every 2 weeks, with the most recent theme of the poll being "the hero that would make the best boss" and the results are in.
Fire Emblem managed to snatch the first spot from Wild Tiger, who usually gets the first place in fan polls, but for a good reason since Fire Emblem is a successful business owner while being a hero and giving love advice to young girls on the team as a mentor. Would Wild Tiger make a good boss? That might be debatable, but more surprising is the fact Japanese fans would like to work for Lunatic more than the rest of the heroes. Yuri Petrov seems like a calm and fair boss which may have contributed to the results.
The previous theme for the poll was "the hero you would like to celebrate your birthday with". Main buddy, Wild Tiger and Barnaby Brooks Jr. landed in first and second place while the former King Of Heroes, SkyHigh managed to get the third place. It seems like the dark hero, Lunatic has a very strong following in Japan to be in fourth place, higher than the rest of the heroes.
©SUNRISE/T&B MOVIE PARTNERS ©SUNRISE/T&B PARTNERS © 2013 NAMCO All rights reserved.