Ayaka Suwa and Hisako Kanemoto will star the school action story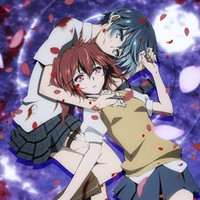 The official site for the upcoming TV anime adaptation of a school manga Akuma no Riddle/Riddle Story of Devil by Yun Kouga (story) and Sunao Minakata (art) revealed 15 voice cast today. The cast for the 13 students were selected from more than 150 candidates in the audition. Check the VA list below. The TV anime is scheduled to be premiere in Japan in spring 2014.
Tokaku Azuma: Ayaka Suwa
Haru Ichinose: Hisako Kanemoto
Nio Hashiri: Yoshino Nanjyou
Isuke Inukai: Azumi Asakura
Haruki Sagae: Fumiko Uchimura
Hitsugi Kirigaya: Mami Uchida
Chitaru Namatame: Sachika Misawa
Mahiru/Shinya Bamba: Yuka Otsubo
Sumireko Hanabusa: Miho Arakawa
Kouko Kaminaga: Haruka Yoshimura
Suzu Shyutou: Chika Anzai
Otoya Takechi: Manami Numakura
Shiena Kenmochi: Yuki Yamada
Kaiba-sensei: Tomokazu Sugita
Mizorogi-sensei: Takahiro Sakurai
The story is set in the 10th year's Kurogumi class of Myojyou boarding girls' high school. The class is consisted of 12 assassins and their target, a girl named Haru Ichinose. Haru knows her life is in serious danger, but has decided to survive somehow till the graduation. Tokaku Azuma who is recently transferred to the class is also trying to kill her. However, she gradually became attracted to Haru. The anime is produced by a Tokyo-based company Diomedéa (Kodomo no Jikan, Squid Girl, Astarotte no Omocha!). Keizo Kusakawa who directed Magical Girl Lyrical Nanoha A's, Magical girl lyrical Nanoha StrikerS, and Ro-Kyu-Bu! serves as the director.
The anime key visual
The main staff:
Original creator: Yun Kouga (Loveless, Earthian)
Original character designer: Sunao Minakata (Nanami and Misuzu)
Director: Keizo Kusakawa
Series composition: Kiyoko Yoshimura (Last Exile: Fam The Silver Wing, The Legend of the Legendary Heroes)
Character designer, chief animation director: Naomi Ide 
(Astarotte no Omocha!, Problem Children are Coming from Another World, aren't they?)
Production: Diomedéa
Source: Comic Natalie
© Yun Kouga/Sunao Minakata/Kadokawa Shoten/Akuma no Riddle Production Committee